STAGE COMBAT WORKSHOP: Intro to the Longsword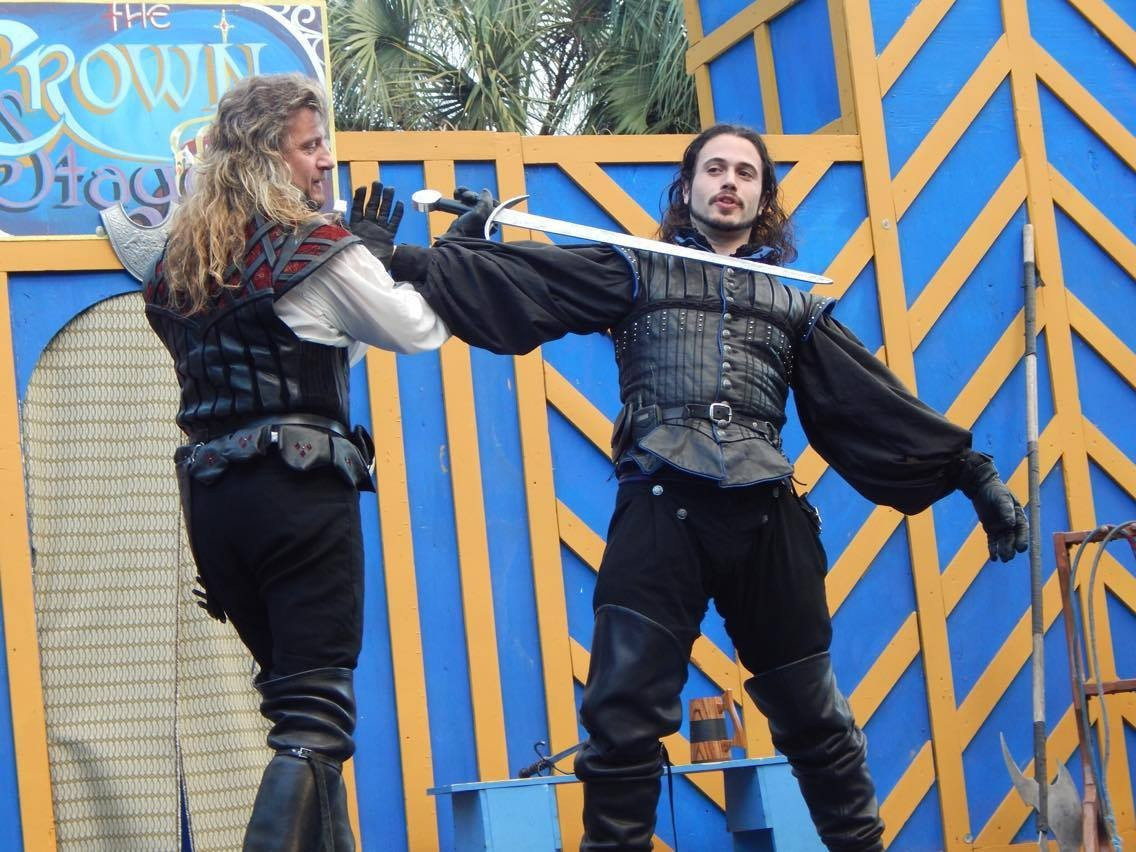 $150 Early Bird
Registration
Ends 02.01.19
Calling all Stage Performers/Actors, Stunt Performers, History Buffs,
LARP-ers, Martial Artists & Weapons Enthusiasts:
DON'T MISS THE DUELISTS
at Ponchatoula Fitness Center
on Saturday February 16, 2019 from 9am-6pm
for an Introduction to Stage Combat and the Longsword.
This one day workshop will teach you
- The Fundamentals of the Historic Longsword
- Stage Combat Safety & Protocols
- Essential Stage Combat Principles
- Stage Choreography
- And More
Saturday February 16, 2019
FAQ's
Who is it for?

Anyone 16 years of age or older. Particularly great for Stage Actors/Performers, Stunt Performers, History Buffs, LARP-ers and Weapons Enthusiasts. (16-17 yr. olds must have written permission from a parent or guardian)

Do I need experience?

NO. This course will introduce the student to the fundamentals of historically based stage combat based on the Italian longsword. Participants will learn all stage combat safety procedures and protocols. Participants will learn essential principles of stage combat including distance, timing, line, intent control and learn to safely execute attacks, parries, footwork, use of force and weapon control. Participants will execute these skills through both drills and choreography, working with a partner, and at the conclusion of the workshop, students will choreograph and perform a basic longsword fight.



What should I wear?

Comfortable clothing and closed-toe shoes are required. Costumes, flowing garments and large accessories are not recommended.



What should I bring?

Water and some snacks will be provided. Smothies, beverages and protein bars are available for sale. A full lunch will NOT be provided. Bring a lunch or plan to visit a nearby food establishment during the 1 hour lunch break.
Swords will be provided. You may bring your own if you have one, however they must be approved before using.

Who are "The Duelists"?

Visit www.duelists.com for The Duelists bios, show dates, videos and more
For more details, workshop specifics and objectives, CLICK HERE
Randall Scott & Michael Moody